Solutions for Diagnostics
Solutions for Diagnostics
Blood pressure and haemodynamics in a single device.
Upgradable haemodynamic parameters.
Significantly better patient compliance.
Higher efficiency with Smart Solutions.
Presentation of results report to doctor.​
Prescription of 24-hour long-term measurement.​​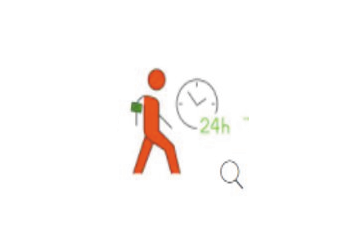 Performanceof 24-hour long-term measurement. ​
Analysis of the measurement results and diagnosis by the doctor.​
Prescription of therapy and home blood pressure measurement device.​
Diagnostics​​​
Using our validated ABPM system creates added clinical and commercial value, and enables the user to make a reliable diagnosis. A single blood pressure measurement is ideally supplemented by an ABPM in order to identify significant daily fluctuations in blood pressure. In this way different hypertension phenomena (e.g. white coat hypertension, masked hypertension, nighttime hypertension etc.) can be diagnosed.
​ IEM has been working on conventional methods of blood pressure measurement to incorporate pulse wave analysis (PWA), which includes key cardiovascular parameters and can be offered as an optional upgrade. Our long-term monitors can perform a pulse wave analysis alongside blood pressure measurement in the context of an automatic measurement cycle.
An analysis of individual PWA parameters provides a clearer picture of the cardiovascular risk than peripheral blood pressure alone. In addition, the ESH/ESC guidelines on classification and treatment of hypertension help to produce a significantly better indication when making a decision on medication. To ensure that the process of visiting the medical centre and treating the patient is as efficient as possible, we integrate intelligent assistance into our products in the form of Smart Solutions*, and these also encourage patients to accept our ABPM systems far more readily.